Hello and welcome to my Money Making blog I have been making money online since 2008. I've been scammed a few times out of my hard earned money, but you wont find any scams here.
All programs are LEGIT! You will see that some have alot of payments, and some hardly at all, ALL are guaranteed payers, just some I work at more then others
If there are no payment proofs, not to worry I have done plenty of research to make sure they do pay. If they stop paying they are taken off my site.
So if your out of work, a stay at home mom, a college student, a gamer looking for free money to buy those upgrades, any or none of those, please take a look through these programs and try a few. Earn some FREE money today!
If you see a site you would like to join PLEASE click the adjoining banner and use my links
*****************
Mistplay (APP)
Mistplay pays you to play games!
Quick and Easy! New games added constantly.
Earn Cash, giftcards and rewards by playing mobile games! (Google App Store)
Earn a 50 point startup bonus for using my link.
https://mistplay.co/itqArdlWL2
*****************
BuzzBreak (APP)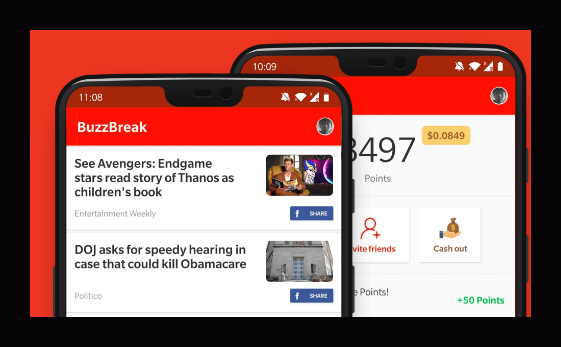 Payments: .50c .50c .50c .50c .50c .50c .50c .50c .50c .50c .50c .50c .50c .50c .50c .50c .50c .50c
To earn extra bonus, enter my referral code B03073840 after you start using it! Download from Google Play to win big reward!
The cashouts are low. 10c..20c…50c cents. You can only cashout at the most 50c at a time. Soon as you receive that payment, cashout again…repeat. Payments take about an hour to receive, and its to PAYPAL
1000 pnts = 10c
You get 100pnts every hour you check in.
You get 5pnts every 30 seconds.
You get daily login points.
They say you get paid to read news but you dont really have to read. There are short videos like cats, sports, weather, strange, funny ones etc. No timers you dont have to watch a certain amount of time
They also have TapResearch surveys too, looking at the ones right now, they are 700 up to 3000 pnts
*****************
MyPointSaver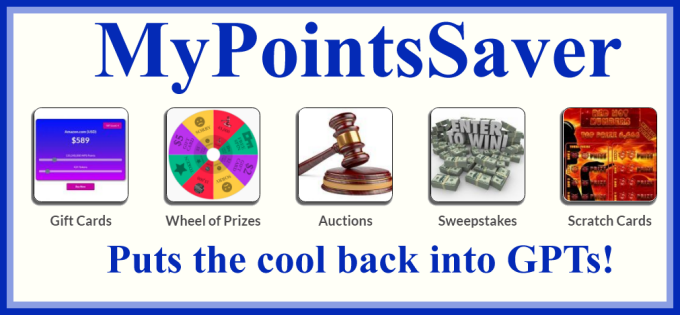 Payments: $1.00 $1.00 $1.00 $2.00 $1.00 $3.00 $5.00 $2.00 $5.00 $5.00
MyPointSaver is a newer Canadian GPT site, that is unlike any other!
Many countries are welcome. Signup is 100% Free. It's Quick & Easy with No Risk, No Catch, and No Credit Card required.
You are given 75,000 points for signing up.
You are given 50,000 points for each new referral
You are given 2,500 points for Daily Bonus Points & Daily Signin
You are given 500 points for each visitor
You can earn points by:
Doing Offers, they have many offer walls, Videos, Tasks, Surveys and more. Its very unique and has its own ways to earn, never seen on any other site
Cashout is $1.00 and you can redeem your points for Amazon, or if your looking for something more unique, spend your points on Scratchcards, Auctions, Sweepstakes or the Wheel of Prizes
They have Monthly Giveaways ranging from $10 to $200
*****************
Hideout .TV

Payments: .35c .41c .41c .41c .82c .82c $1.64 $1.64 $1.23 .82c $1.23 $2.05 $1.23 $1.64 $1.64 .38c .44c .41c .28c .40c .76c .44c
Most GPT sites have this site in their videos section as an option. So if your on a GPT site, and you click Hideout.tv, it will open the window and play videos like all others do, except this you dont have to click anything it just earns, You get 3 points per advertisement, they dont pay you for the videos, just the advertisements.
It keeps track of your points on the Hideout.tv site. But then, you can cash out your points on any GPT site that offers Hideout.tv
So even if you watched them on say InstaGC, you could cash them out on KeepRewarding, or if you earned them at KeepRewarding, you could cash them out at InstaGC, etc…
You have to sign up at Hideout.tv. Then you can link up all GPT sites your a member of that run Hideout.tv
All you have to do is go to those GPT sites, click a Hideout.tv link, and it will link you up automatically.
So it wont show you earning on say if you were at InstaGC, it will show you what your points are at Hideout.tv. Once you redeem your points, it automatically goes to which GPT site you chose to send it to.
Also if you have multiple GPT sites linked, you can look though your links, and it will show you how much points or cash you will get from each GPT site. Some can be a 10c difference or more! I hope all that makes sense
Hideout.tv is currently available to users in the following countries:
Australia, Canada, Denmark, Germany, Ireland, Malaysia, Netherlands, New Zealand, Norway, Sweden, United Kingdom, United States
*****************
PicturePunches

Payments: $1.00 $4.23 $2.25 $3.08 $2.32 $2.07 $2.13
PicturePunches is a site where you get paid by uploading memes. OR Looking at other peoples memes
Minimum withdrawal is $1 Paypal
This is open to all countries
To upload memes you need points, and you earn these points by viewing the memes of other members. You get points for every meme you view, your then charged points to post each meme. There are many rooms to post your memes in, but each room charges different points.
*****************
InboxDollars

Payments: $27.01 $27.08 $27.63 $27.02 $30.35
InboxDollars is a very old well known site. They have been around since 2000 and always paying their members.
They are United States Only
When you join you will get a $5.00 Signup Bonus…once you verify your account
Get paid to:
Reading Emails
Shopping Online
Taking Surveys
Playing Games
Redeeming Coupons
Trivia
Promo Codes
Everything you do on the site earns you Scratch & Win progress points, to fill up your Scratch & Win (Scratchcard) once its filled you can scratch the card for a chance to win extra money. You have 3 scratchcards to choose from that you could win up to $10, $25, $100
If you are disqualified from a survey, you earn a free spin on the Spin & Win, where I have won $1.00 and $5.00
I do 4 searches, watch the videos under TV until they run out, and answer the trivia question everyday. Those fill your meter towards a scratch ticket. I do surveys that are 15 minutes or less and worth 5 cents per minute or more. I use any spins I have from survey attempts and confirm any paid emails. That's about it. Request cashout between $32 and $33 and they will give you the option to increase your balance to $40 within the next 30 days and they will wave the $3 cashout fee, and give you a $3 bonus towards your next cashout. I hope that helps!
*****************
MicrosoftRewards/Bing

Payments: $5.00 $5.00 $5.00 $5.00 $5.00 $5.00 $5.00 $5.00 $5.00 $5.00 $5.00 $5.00 $5.00 $10.00 $5.00 $10.00 $10.00
Earn reward points by surfing the web using Bing Search Engine
You must have a Microsoft Email account.
5000 points = $5.00
They have 20+ Giftcards to spend your points on, here are a few….Amazon, Burger King, Starbucks, Target, Walmart
*****************
ForumCoin

Payments: $5.00
Do you like to post, chat with others, share your knowledge of earning online, or maybe you want to learn more about earning?!
Join ForumCoin, you earn by posting on other peoples posts, or make your own. Super easy
Open to All Countries!
Cashout is $5.00
*****************
Zoombucks

If you use my invite code, you get 500 free points!
Zoombucks is from the same great Admins that own Grabpoints (Below)
Open to most countries
Get paid to
Watch Videos
Do Surveys
Complete Offers – Multiple Offer Walls Available
Cashout with Paypal or hundreds of Giftcards
Get paid within 24-48 hours after cashing out
*****************
Grabpoints


Signup Bonus when you use my link
Payments: $10.00 $10.00 $3.00 $5.00 $5.00 $3.00 $5.00 $5.00 $5.00 $3.00 $5.00
GrabPoints was formerly known as Zoombucks is also a great site where you can earn multiple ways without much effort.
You can enter promo codes, watch videos, fill out surveys, or offers, download aps.
Earning is easy…getting a gift card is even easier!
GrabPoints is open to all countries
There are 1000s of giftcards to choose from
Hope to see you there!
*****************
Snagoo

Payments: $2.00 $3.31 $3.00 $3.25
Snagoo: Claims to be a higher-paying GPT site!
Open to USA only
You must be 18 years old and above
100 points = $1.00. And it takes 100 to cashout
Cashout to Amazon, Paypal, Starbucks, Fandango
They offer your Favorite OfferWalls
They claim they pay out 50-100% more than the big GPT sites!
20% Earn points passively just by sharing Snagoo with friends! Each time your Referral completes an offer or survey, you'll earn up to 20% of their points as a bonus based on your reputation!
Reputation Levels
The more points you earn, the higher your reputation rises, the less amount of time you have to wait for your payment, and you will receive bonus points for completing offers
*****************
1Q
Payments: .25c .25c .25c .25c .25c .25c .25c .25c .25c .25c .25c .25c .25c .25c .25c .25c .50c .25c
You must have a cellphone
This site will text you a question with a multiple choice answers listed as A, B, C or D. You hit reply with the letter and thats it, you just earned .25c
You can choose to be paid .50c per question, but you will get less questions
The payment's are instantly sent to your Paypal
For every referral you get, you will earn .25c
This is only available to members from US, UK and Canada
*****************
OneDayRewards
Payments: $1.00 $2.00 $5.00 $6.00 $4.43 $4.08 $5.37 $3.38 $3.30 $3.22 .78c $1.01 .95c $2.00 $3.12 $5.00 $2.32 $1.47 $4.43
OneDayRewards is a GPT site. They accept members world wide!
You can cash out at a low .10c
Get paid by the following
Paypal – Cashout at 0.10c
Amazon – Cashout at $1.00
Bitcoin – Cashout at 0.10c
Serve – Cashout at 0.10c
Steam – Cashout at 0.50c
They also hold multiple Contests
They have all the offer walls, video walls
Payments are sent three times per day. 12 Noon, 6PM, and 11PM CST
They have a converter, so you can convert any points you have to cash, or cash to points
They have all kinds of payment proofs
*****************
GrindaBuck
GrindaBuck is a GPT site that has been around since 2014
You get 100 points (= $1.00) when you join using my referral link
You earn 10% of your referral's earnings
Get Paid with Paypal, Bitcoin, Amazon or Walmart Giftcards
They have a VIP Program
You start out at Level 1 and work your way higher, the higher you get, the lower your minimum cashout is
All kinds of offer walls to explore … 15 of them!
Many different surveys to complete
Daily 3c login bonus
Friendly Chat Box
*****************
Gain.GG

Payments: $1.00 .43 .40 .66c $1.00 $5.00 $3.11
At Gain.gg You get rewarded by complete surveys and watch videos, complete tasks, to earn coins which you can later withdraw to
Paypal
BitCoin
1 Penny Cashouts
No Fees
1000 points = $1.00
Very nice chat box if you need help
Easy to navigate layout
*****************
Get-Paid

Payments: $1.00
The site has been around since 2008
The site is open to multiple countries, and you can choose to have the site displayed in multiple languages
Good things:
I like that the site does not look like other GPT sites
They are very active on facebook
They have a leveling system, this helps me with goals, I am level 4. And I love the levels as you get bonus points depending on your level, plus what you earn for the offer itself
You can cashout once you've reached $0.50 (or $1.00 for certain users) and once you cash-out you will be paid within 24-48 hours, it's that easy!
Cashout for Australian, Canadian, UK and US members = $1.00 Minimum.
All other members = $0.50 Minimum.
They pay by: PAYPAL, AMAZON, WEBMONEY, PERFECTMONEY, BITCOIN, GIFTCARDS
They have Paid to Click, Surveys and all the popular Offer Walls
If you earn over 300 coins in one day, you get a bonus spin of the cash wheel
Once you join it could take up to 10 mins for activation email to arrive.
*****************
YouGov
Payments: $15.00 $15.00 $15.00 $15.00
Let your opinions be heard by filling out surveys. These are surveys that you do not get disqualified from 🙂
They have mutiple giftcards to cashout for including: Prepaid Visa GiftCard, Amazon, Kmart, Nike, Lowe's, Applebee's, Sears
*****************
AdWallet

Payments: $10.00 $10.25 $10.25 $10.00
Do you make $0.75 every time you watch a video? I DO!!! Create your AdWallet account now!
WATCH ADS AND EARN CASH.
Available for Browser or Download the free AdWallet app
Start earning $0.50 every time you watch a 30-second ad. You can also earn an additional $0.25 when you share each Ad on social media.
Get paid to paypal or directly to your bank
If your zipcode doesn't work, try 87505
*****************
DollarClix
Payments: $1.96 $1.06 $5.21 $2.39
Get paid to do offers, watch videos, surveys, multiple offer walls
They have Offer Contests and Referral Contests
Jackpots and Promo Codes
10c to sign up
Activity bonus of $0.001 per hour just to be logged in
Only takes $1.00 to cashout
Get paid to Paypal, Payza, Amazon, BitCoin
Open to All Countries!
*****************
KeepRewarding
Payments: $1.00 $5.00 $5.00 $5.00 $5.00 $5.00 $5.00 $5.00 $5.00 $5.00 $5.00 $5.00 $5.00 $5.00 $5.00 $5.00 $10.00 $5.00
KeepRewarding has been paying its members since 2012
Great Admin
Get paid to watch videos, complete offers, paid to clicks
Get paid to Paypal, Amazon or Walmart
$1 Cashouts
KeepRewarding is open to ALL COUNTRIES
*****************
Earnably
Earnably is a nice site where you can earn by watching videos, doing offers, tasks, surveys and more
They have levels, and you get perks for leveling up.
Cashout is a low $1.00
Get paid to Paypal, Amazon, or Bitcoin
You'll receive 10% of everything that your referrals earn by completing offers.
You can also set your withdraws to be sent as soon as you reach an amount of your choosing
*****************
Qmee
Payments: .91c $1.11 $1.00 .83c $1.03 $1.03 $1.03 $1.06 $1.03 $1.22 $2.63 $1.34 $2.11 $1.00 $1.72 $1.62 $1.52 $2.46 $2.03 $1.25 $2.74 $2.58 $1.22 $2.11 $2.52 $1.65 $1.35 $2.81
Qmee is a free app (extension) to add to your browser. No worries there are is NO malware
Qmee works in Windows, Mac OSX and Linux, using Google Chrome, Firefox, Safari, Opera or Internet Explorer
Then just use your browser to do searches on Amazon, Ebay, Yahoo, Bing or Google. (adds will show up on the side of your search results. No popups)
Get a few cents to $1.00 per add
Cashout any amount to Paypal, or to a charity
*****************
Tellwut

Payments: $10.00 $10.00 $10.00 $10.00 $10.00 $10.00 $10.00 $10.00 $10.00 $10.00 $10.00 $10.00 $10.00 $10.00 $10.00 $10.00 $10.00 $10.00 $10.00 $10.00 $10.00 $10.00 $10.00 $10.00 $10.00
Ever join one of those survey sites where your 20 pages into a survey only to be told "you dont qualify"? Well NOT ANYMORE!
Tellwut is unique in that thier surveys are 1-3 questions each with multiple choice answers.
You get points for EACH survey you answer
Get points for making your own surveys
Get points for referring members
SUPER-fast surveys, never get disqualified.
Surveys onsite 2,873
Turn points in for FREE Giftcards
UNITED STATES/CANADA ONLY
*****************
InstaGC
Payments: $2.00 $1.00 $1.00 $1.00 $2.00 $2.00 $1.00 $1.00 $2.00 $6.00 $4.00 $5.00 $6.00 $6.00 $1.00 $10.00 $3.78 $3.50 $2.17 $1.52 $2.75 $2.00 $1.22 $5.12
This site is 3 years old, and is owned by the same people that owned PrizeLive, one of the top GPT in its day Free points for signing up
It only takes 100 points to cashout, they have NINE pages of GiftCard options
(Cashouts are instant, you will recieve your points or giftcards immedietely!)
You can also request a check by mail
Earn points by:
Listen to Music
Search the Web
Visit Sites
Watch Videos
Completing Tasks
Do Offers
Go Shopping
Signup for Trials
*****************
Swagbucks

Payments: $5.00 $5.00 $5.00 $5.00 $5.00 $5.00 $5.00 $5.00 $5.00 $5.00 $5.00 $5.00 $5.00 $5.00 $5.00 $5.00 $5.00 $5.00 $5.00 $5.00 $5.00 $5.00 $5.00 $5.00 $5.00 $5.00 $5.00 $5.00 $5.00 $5.00 $5.00 $5.00 $5.00 $5.00 $5.00 $5.00 $5.00 $5.00 $5.00 $5.00 $5.00 $10.00 $5.00 $5.00 $5.00 $5.00 $5.00 $5.00 $10.00 $5.00 $5.00 $5.00 $5.00 $5.00 $5.00 $5.00 $5.00 $5.00 $5.00 $5.00 $5.00 $5.00 $5.00 $25.00 $25.00 $5.00 $25.00 $25.00 $5.00 $5.00 $25.00 $25.00 $25.00 $25.00 $25.00 $25.00 $5.00 $5.00 $5.00 $5.00
Use the Swagbucks site to do your searches on the web. Earn virtual currency known as swagbucks when you do searches, make purchases, share opinions, answer questions, play games, fill out surveys
Redeem swagbucks for Gift Cards, Paypal, Electronics, Video Games, DVDs, MP3s or SO MUCH MORE!
Open to US, UK, and Canada only, but they hope to expand service to other areas of the globe in the future.
Why not get free stuff for doing the same thing you do each time you search for something?
*****************
Irazoo

Payments: $5.00 $5.00 $5.00 $5.00 $5.00 $5.00 $5.00 $5.00 $5.00 $5.00 $5.00 $5.00 $5.00 $5.00 $5.00 $5.00 $5.00 $5.00 $5.00 $5.00 $10.00 $5.00
IRazoo is another search and win site, much like Swagbucks or GrabPoints – You can earn points, then exchange those points for prizes such as Amazon Gift Cards, Mp3 players, Cameras, etc
You can get 50 points to just sign up
You can win points by doing searches
And you can earn 50 points for each referral
Each time your referral searches and earns points, those points will be added to your total as well.
Users from ALL countries can earn points on iRazoo and can exchange their points for many different gift certificates and Paypal
*****************
PaidViewPoint

Payments: $15.23 $15.10 $15.03 $15.02 $15.06 $15.08 $16.52 $15.11 $15.36 $15.09 $15.04 $15.18 $15.14 $16.83 $15.44 $16.41
We pay cash for every completed market research survey.
We never screen you out once you've been invited into a survey.
We've cracked the code that takes "boring" out of the survey answering experience.
All cash-out payments are made through Paypal
Cash-out is only $15
Open to most countries (as long as paypal sends to those countries your ok to join)
Important! Join with an email you check daily, the announcements that you have a survey are sent there
*****************

FusionCash
Payments: $25.04 $25.33 $25.15 $28.51 $30.91 $30.81 $26.08 $25.88 $25.00 $28.00 $25.01 $27.34 $27.08 $26.15 $26.15 $25.02 $25.05 $26.59 $25.09 $25.02 $34.35 $25.22 $25.00 $25.13 $28.06
FusionCash is a GPT site that has been around for TWELVE (12) years! They are doing something right!
Earn money by doing offers
Posting on the forum bonus of $3.00 per month
Watching Videos
Paid Emails
Paid to Search and much much more!
Earn $1 when a referral confirms their email, $2 when they complete a Paid to Sign Up offer, and $5 each time they are approved for cashout – for life!
*****************

TreasureTrooper

Payments: $50.00 $29.15 $24.66 $20.00 $19.64 $20.14 $23.01 $30.20 $29.43 $20.00 $40.68 $20.00
Treasure Trooper is a unique GPT site, that is also like a game
This site has been around and paying since 2005
Forum Also Available
After completing each offer, you get a get a chance to also win by playing the shell game.
Take the pearls, gems, and coins to Mabutu's Hut and cash them in for assorted items. Referrals, iPod Nano, Xbox 360, $50 Visa GC, $20 Amazon Gift Certificates
There is a jungle slot machine, where you get 1 pull daily.
*****************

BrandedSurveys (formerly known as Mintvine)

Payments: $11.00 $11.00 $10.00 $10.00 $10.00 $10.00 $10.00 $24.00 $12.00 $10.00 $11.00 $10.00 $10.00 $10.00 $10.00 $10.00 $10.00 $10.00 $10.00 $10.00 $10.00 $10.00 $10.00 $10.00 $10.00 $10.00 $10.00 $10.00 $10.00
Mintvine is a site where you can earn by filling out surveys
Answer Polls, Fill Out Offers, they have 6 different offer walls
Each 100 points equals $1.00
Cashout when you reach 1000 points equivalent to $10.00
Get paid by Paypal, Amazon, Walmart, Olive Garden/Red Lobster and about 50 other cards/ecards, something for everyone!
So now tell me…..exactly what are you waiting for? Come and join me in making FREE money!
Misc Payments: The following amount was made from misc sites that either I no longer belong to, some are gone, some I just dont have time to go to, some I just didnt find it worth my time. But for my reference I still want to include the amount
$1,355.40